Protect Your Sewer System from Tree Roots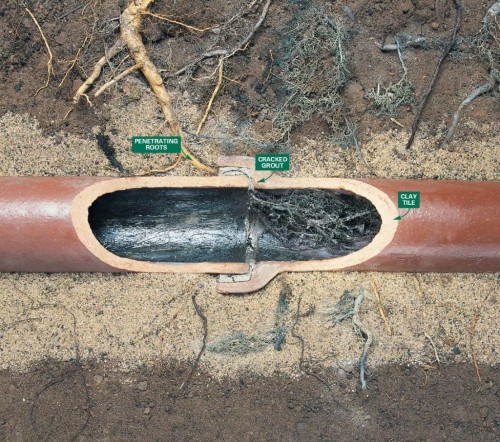 Waste water is emitted from the house through a lateral line. This line links the drain to the main municipal septic tank, cesspool, or sewer. With time, lateral lines can be cracked or damaged by shifting soil or tree roots invasion. The staff at Valley Village Plumbing & Drain can help remove tree roots from your sewer line so that you do not experience problems associated with tree roots invasion of your sewer line. In addition, we advise our clients on the types of trees whose roots can invade their sewer lines.
Tree Root Growth
Different tree species have distinct root systems. Some trees have root systems that stretch down and outward mimicking the growth of the tree above ground. The roots may be as broad as the canopy of the tree and as deep as its height. When constructing a new septic tank system, make sure there are no trees within 100 feet of the sewer line, especially trees with destructive roots.
Pay Close Attention to Species with Large Root Systems
Cottonwoods, poplars, and aspens have large wide spreading root systems. These trees can cause significant damage if planted near drain fields, home foundations, septic tanks, driveways, or sidewalks. They have invasive root systems that help the tree survive in its natural surroundings. However, they can invade sewer lines and cause plumbing problems.
Elms are grouped into two: deciduous and semi deciduous trees. American elm is a common landscape tree grown along city streets, in home landscapes, and in parks. Elms offer a nice shade and visual appearance but should not be grown near pipes, septic tanks, or any other plumbing feature. They have deep and extensive roots that can invade sewer lines and cause blockage.
Willows develop extensive, destructive root systems that viciously seek dampness. They can cause major problems to plumbing systems if planted close to a septic tank. These trees should not be planted near water mains, septic tanks, or foundations. However, they provide an elegant accent when planted along ponds or riverbanks.
Call Today to Learn more about Our Plumbing Services
Valley Village Plumbing & Drain provides recommendations for tree species that can be planted near sewer lines. We can also help homeowners deal with root invasion of their sewer lines. Call us today to schedule a consultation.